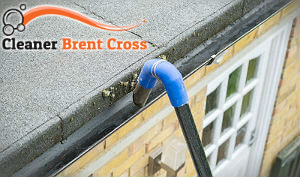 A properly functioning guttering system is essential for any property, be it residential or commercial. If you cannot spare the time and efforts to clean your gutters on your own, we suggest you make use of our affordable gutter cleaning service – we cover the entire Brent Cross area but can service customers in the nearby boroughs as well.
What sets us apart from other companies? We are fair to customers, never compromise with quality, and use only specialised, modern equipment. Our competent technicians can restore your gutters to their pristine condition. Just give us a chance to prove we are the right gutter cleaning company for you!
High-Standard Gutter Cleaning Services Brent Cross
We have worked hard to establish an immaculate reputation for being the leading gutter cleaning provider hundreds of customers in NW4 trust. Your satisfaction is our top priority! Here are several advantages our service has to offer:
Budget-friendly rates and accurate quotes with zero obligation
Flexible working hours throughout the week
Quick response time
Wet/dry vacuuming system for severe blockages
Telescopic poles for hard-to-reach gutters
Expertly-trained professionals
A one-month guarantee for gutter cleaning
When it comes to gutters, preventive measures are the way to go as proper cleaning and maintenance of your guttering system will spare you lots of expenses and headaches in the long run. Yet, cleaning gutters is never easy when one lacks equipment, skill and experience. Why not leave it to our trained professionals then?
"Quick response, adequate customer care, great pricing and amazing service overall! If I need gutter cleaning again, I would definitely call them. What I appreciated the most was the fact they cleaned the gutters with extendible poles from ground level, which is great because I had just repainted my walls and sills. – Norah"
Affordable Gutter Cleaning in NW4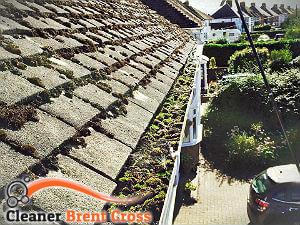 Our team can pay you a visit for a free on-site estimate. They will tell you how much the service will cost you in advance and evaluate your gutters' condition. We can take a close look inside your downpipes with the help of our telescopic poles which have a small digital camera attached to them.
The poles can extend to reach upper-story gutters, but depending on your property's peculiarities, we might resort to using a ladder. But don't worry – we are always extra careful not to scratch your sills and damage your gutters.
Our high-end vacuuming system is powerful enough to unclog even the most severe blockages. It will suck away all moss, overgrown grass, leaves and dirt, leaving you with properly functioning gutters once again.
It would be best if you take advantage of our gutter cleaning service twice per year – we have helped hundreds of customers across Brent Cross, NW4. Allow us to help you, too!